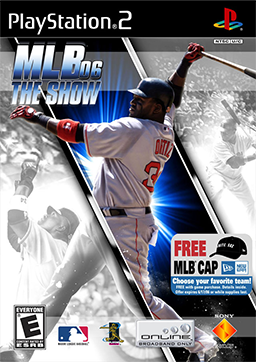 MLB 06: The Show
was released February 28, 2006 for the PlayStation 2 and PSP. It was developed by SCE San Diego Studio and published by Sony Computer Entertainment.
Cover Athlete
Edit
The cover athlete for MLB 06: The Show is Boston Red Sox designated hitter David Ortiz. Ortiz was the 2005 American League MVP.
New Features
Edit
"The Show" mode which is like a career mode.
Home Run Derby is included in the All-Star Weekend.
King of the Diamond which is an arcade style game with timed innings and a point system.
Soundtrack
Edit
| Artist | Song |
| --- | --- |
| Army of Me | Going Through Changes |
| City Sleeps | Prototype |
| Stab the Matador | Low Rider |
| Story of the Year | We Don't Care Anymore |
| The Black Keys | 10 AM automatic |
| Transfer | Smoke of the Crowd |
| VHS or BETA | Night on Fire |
| Motion City Soundtrack | Everything is Alright |
| O.A.R. | Of a Revolution |
| Hard-Fi | Gotta Reason |
Barry Bonds is not in the game because he is not in the MLBPA (Major League Baseball Players Association) so he is replaced with Reggie Stocker, a fake baseball player.
References
Edit
Ad blocker interference detected!
Wikia is a free-to-use site that makes money from advertising. We have a modified experience for viewers using ad blockers

Wikia is not accessible if you've made further modifications. Remove the custom ad blocker rule(s) and the page will load as expected.