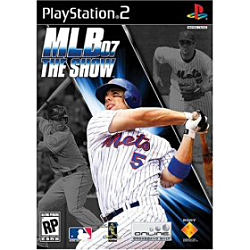 MLB 07: The Show
was released February 27, 2007 for the PlayStation 2 and PSP. The PlayStation 3 version was released May 15, 2007. It was developed by SCE San Diego Studio and published by Sony Computer Entertainment.
Cover Athlete
Edit
The cover athlete for MLB 07: The Show is New Yorks Mets third baseman David Wright. Wright made his first All-Star Game in 2006.
New Features
Edit
New Road to the Show. RttS (Road to the Show) is a career mode where you control everything your player does. Things like training and going through the minor leagues to prepair for the big leagues.
The PlayStation 3 version will have a "Always Online" feature which gives you MLB live score updates, live roster updates, and much more.
Set up online leagues with 6-30 teams with full stat tracker.
New Rivalry Mode allow you to set up a series of games between you and a friend or the computer.
New Franchise Mode which gives you the experience of running a major league ballclub.
New umpire personalities. Different umpires have different strike zones.
Now wind effects everything. Wind will effect how a player takes a route to the ball.
Soundtrack
Edit
| Artist | Song |
| --- | --- |
| A Static Lullaby | Hang 'Em High |
| Alexisonfire | This Could be Anywhere in the World |
| Chevelle | Antisaint |
| Earl Greyhound | All Better Now |
| Early Man | Feeding Frenzy |
| Embassy | Gravity |
| Fall Out Boy | The Carpal Tunnel of Love |
| Halifax | Nightmare |
| Jet | Put Your Money Where Your Mouth Is |
| Maxeen | Loud as War |
| My Chemical Romance | This is How I Disappear |
| Over It | Caught in a Rundown |
| Ratatat | Loud Pipes |
| Switchfoot | Oh! Gravity |
| Test Your Reflex | Black Hearts |
| The Checks | What You Heard |
| The Photo Atlas | Red, Orange, Yellow |
| Wolfmother | Joker and the Thief |
| Wylde Bunch | Yeah Yeah (Stomp the Bleachers) |
The reason Barry Bonds is not in the game is because he was not on the MLBPA (Major League Baseball Players Association) when the game was made, but was replaced by a fake player Reggie Stocker.
The reason Daisuke Matsuzaka is not in the game is the same reason why Bonds wasn't in it, but Matsuzaka was replaced by a fake player Tate Baik.
References
Edit