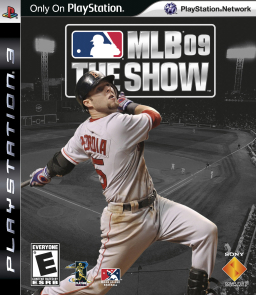 MLB 09: The Show was released March 3, 2009. It was developed by SCE San Diego Studio and published by Sony Computer Entertainment. The game was released for the PlayStation 3, PlayStation 2, and PSP.
Cover Athlete
Edit
The cover athlete for MLB 09: The Show is Boston Red Sox second basemen Dustion Pedroia. Pedroia won the 2008 American League MVP.
New Features
Edit
New Road to the Show 2.0. This is an updated version of last years RttS with and all-new steal and lead-off system.
New Franchise 2.0 adds several new features to Franchise Mode including 40-Man Roster, September call-ups, waiver transactions, and more.
You can now put your favorite songs on The Show to be used in game or in the main menu.
Several in-game improvements include "Hot Shot Fielding", which allows fielders to make better routes to the ball. Also "Progessive Batting Performance" which players abilities improve or regress depending on how the gamer plays. Other improvements are "Adaptive Pitching Intelligence" (API), in which the catcher calls the game based on the pitcher's strengths and weaknesses.
Soundtrack
Edit
| Artist | Song |
| --- | --- |
| Darker My Love | Two Ways Out |
| Eagles of Death Metal | Wannabe In L.A. |
| Hockey | Work |
| Kaiser Chiefs | Never Miss A Beat |
| Ming | El Barrio Boricua |
| Night Horse | Shine On Me |
| Rise Against | Collapse (Post-Amerika) |
| Spoon | Don't You Evah |
| The Blue Van | Man Up |
| The Budos Band | Budos Rising |
| The Parlor Mob | Everything You're Breathing For |
| The Stills | Rooibos |
| TV on the Radio | Golden Age |
| Valencia | Safe To Say |
| Zodiac Death Valley | Methadone Mambo |
References
Edit