MLB 10: The Show was released March 2, 2010. It is developed by SCE San Deigo Studio and was published by Sony Computer Entertainment. The game was released for PlayStation 3, Playstation 2, and PSP.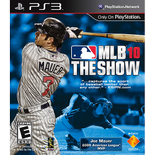 Cover Athlete
Edit
The cover athlete for MLB 10: The Show is Minnesota Twins Catcher Joe Mauer. Mauer won the 2009 American League MVP. He was the first catcher to do so.
New Features
Edit
All new All-Star break game modes Home Run Derby and MLB All-Star Futures Game.
New RttS (Road to the Show) catcher mode. You can now call a game like a real-life catcher.
New user controlled pick-offs. Choose between a quick, normal, or deceptive pick-off move.
Custom Music, fan yells, and crowd chants.
Movie Maker which allows you to create a movie with up to 10 replays in it and edit you highlight.
Five new minor league fields along with five classic ballparks, Forbes Field, Crosley Field, Polo Grounds, Shibe Park, and Sportsman Park. The five class ballparks are downloadable content.
New fielding and pitching training modes and practice modes for RttS (Road to the Show)
New full online season leagues.
Weekly live rosters which will update the rosters every week for the entire MLB season.
1-30 player franchise and season mode. With this you can control every team in the MLB in franchise or season mode.
Stadium realism and experience. You will feel like you're watching a reel-life game on tv with outside transitional lighting, fans reaching over the barrier for a foul groundball, and much much more!
Soundtrack
Edit
| Band | Song |
| --- | --- |
| Band of Skulls | I Know What I Am |
| Baroness | Swollen and Halo |
| The Grouch & Eligh | All In (Gift of Gab & Pigeon John) |
| Night Horse | Come Down Halo |
| Scarlet Symphony | Your Blood Is Mine |
| Silversun Pickups | It's Nice To Know You Work Alone |
| The Budos Band | The Preposition |
| The Heavy | How You Like Me Now (Beats Mix) |
| The New Regime | Haunt My Mind |
| The Sound of Our Lives | Babel On |
| We Are Scientists | Rules |
| Zodiac Death Valley | Look Alive |
References
Edit
Ad blocker interference detected!
Wikia is a free-to-use site that makes money from advertising. We have a modified experience for viewers using ad blockers

Wikia is not accessible if you've made further modifications. Remove the custom ad blocker rule(s) and the page will load as expected.